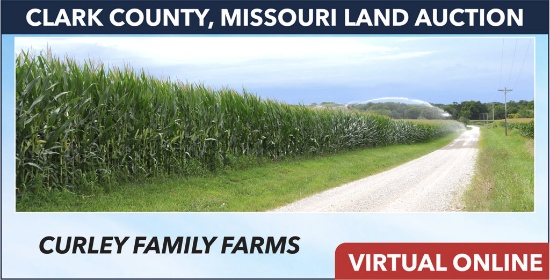 Clark County, MO Land Auction - Curley
Saturday, October 31, 2020 | 11:00 AM Central
to bid until the live auction begins!
Clark County, MO Land Auction - Curley
Saturday, October 31, 2020 | 11:00 AM Central
to bid until the live auction begins!
Internet Premium:
See Special Terms for additional fees
Description
675.52 Contiguous Surveyed Acres - 1 Tract

Farm represents highly productive irrigated farmland that includes 5 state-of-the-art Reinke GPS equipped pivots. Large portion of this farm has been pattern tiled on 20' centers. Farm includes 2 excellent machinery/storage buildings with living quarters.

Inspection Date: Saturday, October 17 • 11 AM – 1 PM

Farm is located approximately 2 miles north of Kahoka, MO in Sections 5, 7 & 8, T65N•R7W, Madison Township, Clark County, MO.

From Kahoka, MO (Jct. of US Hwy. 136 & Hwy. 81) take Hwy. 81 north approximately 1.5 miles to County Road 178, then east approximately 1 mile to County Road 164, then north 1.5 miles to farm. Farm is located along County Road 164, 176 & 167.

Auction Manager: Bill Fretwell (660) 341-7735


Lot # 0 (Sale Order: 1 of 2)
Farm will be sold on a price per acre basis based on acreages obtained from deeded surveyed acres.
Bidding is NOT contingent upon financing.
Immediately following the auction, the winning bidder(s) will be required to sign a real estate sales contract and pay ten percent (10%) of the purchase price as a non-refundable down payment, payable to Oak Hills Title Co., which shall hold the money in escrow until closing.
The balance of the purchase price will be due at closing which will take place at Oak Hills Title Co. on or before December 1, 2020.
Possession will be given at time of closing subject to the current tenant lease for the 2020 crop season. Farm sells free and clear for the 2021 crop year.
The 2020 real estate taxes will be prorated to the date of closing. Title insurance in the full amount of the purchase price will be provided by the seller. Closing costs will be split between buyer & seller.
All announcements made sale day take precedence over prior advertising either written or oral. The information in this brochure is believed to be accurate; however, no liability for its accuracy, errors or omissions is assumed. All lines drawn on maps, photographs, etc. are approximate. Buyers should verify the information to their satisfaction. There are no expressed or implied warranties made by seller or Sullivan Auctioneers, LLC pertaining to this property. Real estate is being sold "AS IS".

Inspection Date: Saturday, October 17 from 11 AM - 1 PM

Curley Family Farms
Closing & Title Work By:
Oak Hills Title Co.
307 Lewis Street
Canton, MO 63435
(573) 288-4461

Auction Manager:
Bill Fretwell - (660) 341-7735
Lot # 1 (Sale Order: 2 of 2)
Quantity: 676
FSA information should indicate approximately 601 acres of tillable farmland of which approximately 511.5 acres are under irrigation. The irrigation systems were installed in 2014 and 2015 and includes (2) 5 tower, (1) 6 tower, (1) 7 tower and (1) 10 tower with SAC. Systems are state-of-the-art GPS equipped Reinke center pivots which allows the ability to remotely monitor and control the irrigation system.
Tract has approximately 169 acres pattern tiled on 20' centers as well as approximately 35 acres pattern tiled on 40' centers.
Farm is improved with an excellent 60' x 90' machine/storage building as well as a 42' x 100' machine/storage building which includes very nice living quarters.
Primary soil types include Armstrong, Adco, Weller, Leonard, Gara & Marion.
Land represents well maintained highly productive irrigated cropland with the balance in (2) lakes, small timber areas and wooded draws. The farm offers premier whitetail deer & wild turkey hunting habitat.
Access along County Roads 164, 176 & 167.
The purchase agreement will be adjusted to a quantity of 675.72 acres times the winning bid value for the final purchase amount. The bidding platform rounds the quantity value.