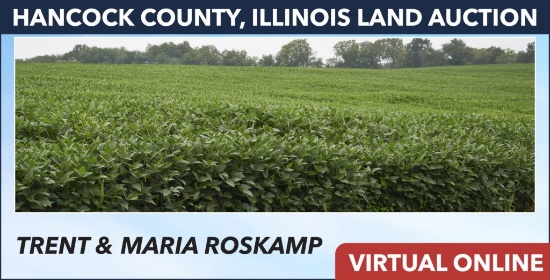 Hancock County, IL Land Auction - Roskamp
Friday, October 30, 2020 | 4:00 PM Central
to bid until the live auction begins!
Hancock County, IL Land Auction - Roskamp
Friday, October 30, 2020 | 4:00 PM Central
to bid until the live auction begins!
Internet Premium:
See Special Terms for additional fees
Description
40 Acres - 1 Tract

The Roskamp farm is located approx. 4 miles southeast of Sutter, IL or approx. 4 miles northeast of Tioga, IL and is further described as being located in Section 23, T3N - R8W, Walker Township, Hancock County, IL. The farm represents predominantly tillable cropland.

Auction Manager: John Sullivan (844) 847-2161

Lot # 0 (Sale Order: 1 of 2)
The farm will sell on a price per acre basis based on 40 taxable acres. Immediately following the auction, the successful buyer will pay ten percent (10%) of the bid price with the balance due at the time of closing on or before Monday, November 30, 2020. Title insurance will be provided by the seller. The 2020 real estate taxes will be paid by the sellers, the 2021 and all subsequent real estate taxes will be the responsibility of the new buyer. The farm sells free & clear for the 2021 crop year and full possession will be given at the time of closing.
All announcements sale day shall take precedence over any prior advertising either written or oral. The information in this brochure is believed to be accurate; however, no liability for its accuracy, errors or omissions is assumed. All lines drawn on maps, photographs, etc. are approximate. Buyers should verify the information to their satisfaction. There are no expressed or implied warranties pertaining to the property. This real estate is being sold "as is".

CLICK HERE TO VIEW TITLE COMMITMENT & PURCHASE AGREEMENT

Trent & Maria Roskamp - Seller

Representing Attorney:
Stephen B. Morris
Stephen B. Morris Law Office P.C.
1040 Broadway St., Hamilton, IL 62341
Ph. (217) 847-3711
Auction Manager:
John Sullivan (844) 847-2161
Lot # 1 (Sale Order: 2 of 2)
Quantity: 40
This farm is nearly all tillable, FSA figures indicate 37.99 acres of cropland.
Soil types: Keomah, Fishhook, Rozetta and a very small amount of Clarksdale & Ursa.
Productivity Index: 98.5 (Soil map online)
Access is along the entire east side by CR #1200E.
The purchase agreement will be adjusted to a quantity of 40 acres times the winning bid value for the final purchase amount. The bidding platform rounds the quantity value.