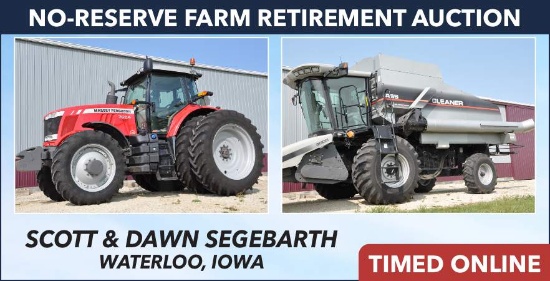 No-Reserve Farm Retirement Auction - Segebarth
Tuesday, November 10, 2020 - Tuesday, November 10, 2020 | 10:00 AM Central
Catalog coming soon!
No-Reserve Farm Retirement Auction - Segebarth
Tuesday, November 10, 2020 - Tuesday, November 10, 2020 | 10:00 AM Central
Description
Selling tractors, combine & heads, grain handling equipment, farm equipment, farm support items, UTVs & mower.

EQUIPMENT INSPECTION: Saturday, November 7th from 9:00 A.M. – 2:00 P.M. or by appointment.

Items are located at the farm near Waterloo, Iowa.
Physical Address: 6541 East Mount Vernon Rd., Waterloo, Iowa 50703

The Segebarths have sold their farmland; therefore, they will sell the above listed equipment at no-reserve auction. This will be a timed online event. No internet buyer's fees! All equipment, except the combine (which is second owner) was purchased new by Scott & Dawn at Deike Implement in Waverly, Iowa. All of the equipment is extremely clean, has low hours and has always been shedded. This equipment was only used on about 400 acres. Anyone having any questions regarding the equipment can call Scott at (319) 230-7824 or feel free to ask Jason or Dean at Deike Implement.

Scott & Dawn Segebarth
Cell (319) 230-7824 • Home (319) 822-2587
Email: scottplus3@yahoo.com

Auction Managers:
Travis Jones...
Show more
Show Less
Closed Lots